CCMH 4 Corners Cafe Open to Public
November 16, 2016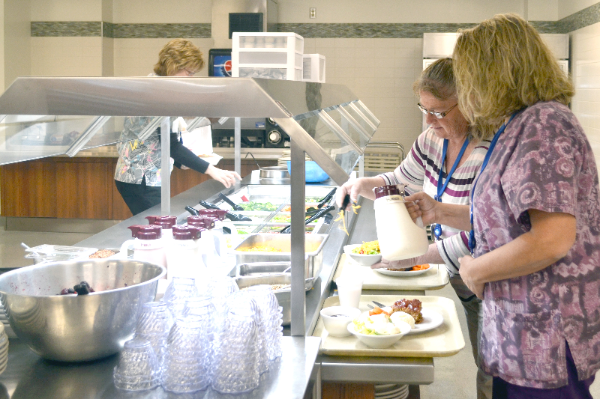 Carroll County Memorial Hospital is excited to introduce the new CCMH 4 Corners Café to our community. The 4 Corners Café will be open daily to serve hospital staff, patients, and the community.
The café offers lunch and dinner to the public seven days a week. Lunch is served from 11 a.m. to 2 p.m. and Dinner from 4:30 to 8 p.m. The Café partners with Care Connection to offer seniors a lunch meal daily from 11 a.m. to 12:30 p.m. Monday-Friday.
The CCMH 4 Corners Café is located on the east side of the hospital with the same entrance as Lifestyle Fitness Center. The café offers several unique food options. An expanded salad bar with varying soups along with fruit and grilled items offer lighter, healthier fare, while a home-style serving line offers some of CCMH's signature homemade entrées, sides and desserts. The home-style entrées, soups, sides, and desserts change often to offer an increased variety of items, while the grilled and fried options are available daily. Several "To Go" items are available for purchase to allow for staff and customers to eat on the run if needed.
"This name has a special meaning, as it brings together CCMH, Care Connection, Jefferson Park, and CCMH Physical Therapy," Jeff Tindle, CCMH CEO, said. "When we first started working on the new CCMH Medical Plaza in 2014, we realized that the only original part of the hospital left was our current cafeteria, and boy did it need work. Instead of rebuilding an entirely new kitchen, it made sense to work with what we already had with Care Connection. Even though it took longer than originally planned, we are so proud of what has been created; a true Community Café where our staff, Care Connection and the entire community can come together and partake in quality, healthy dining options."
The CCMH 4 Corners Café opened to the public, Monday, Nov. 14. Lunch will be served from 11 a.m. to 2 p.m. and dinner from 4:30-8 p.m.
For more information about the services at Carroll County Memorial Hospital or an appointment, visit our website www.carrollcountyhospital.org or call 660-542-1695.