CCMH Celebrates Volunteer Appreciation Week
April 20, 2018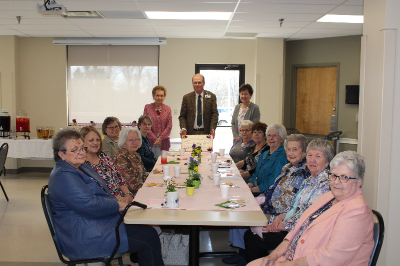 April 15-21 was National Volunteer Week. As a token of appreciation for their core group of volunteers, Carroll County Memorial Hospital recognized their Auxiliary with a special event.
A spring-themed Volunteer Appreciation Tea was held Tuesday, April 17 in 4 Corners Café for the members of the CCMH Auxiliary. The program was presented by Jeff Tindle, CCMH CEO, and Kate Lyons, CCMH Community Outreach Coordinator. They expressed their appreciation on behalf of the hospital, for the time, passion and craftsmanship that the Auxiliary members contributed over the course of the last year.
"It means a lot to patients to have volunteers available to help them navigate upon entering the hospital," Tindle said. "Our volunteers truly enjoy greeting and assisting patients when they are working a shift at one of our welcome desks."
Service pins were awarded to two individuals during the event. Peggy Swearingin was awarded for 18 years of service and Jim Paul was recognized for the most volunteered hours. He has served 384 hours so far during 2018.
Nineteen individuals hold membership in the CCMH Auxiliary: Norma Barry, Malia Casner, Mikki Evans, Anna Foster, Lois Forsythe, Jim Heitmeyer, Lois Henks, Marilyn Martin, Jim Paul, Evelyn Robertson, Jane Ross, Diane Rush, Nancy Schmidt, Nancy Smith, Doris Sorrels, Peggy Swearingin, Celesta Taylor, Norma Vaughn and Wanda Wilson.
"The CCMH Auxiliary has contributed to at least sixteen projects and events over the last year," Tindle said. "Therefore, we know this group has a lot of potential, and in partnership with the hospital's vision, we are excited to see what is in store for the future of the organization."
The Auxilians have offered assistance purchasing items for specific hospital departments, made activity bags for our pediatric patients, sewn eye glass cases and blankets for patients, and assisted at blood drives, to name a few.