CCMH Installs New CT, MRI Equipment
January 07, 2018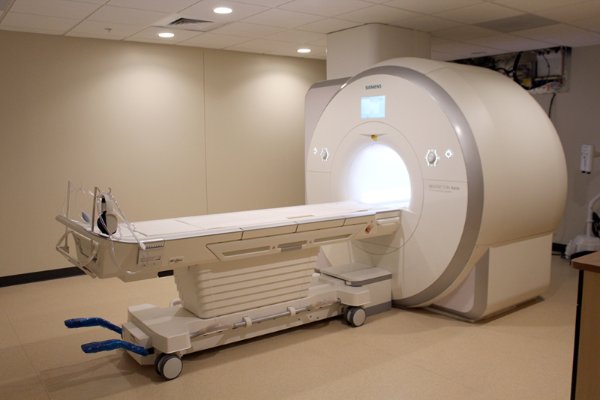 CARROLLTON, Mo. -- Carroll County Memorial Hospital said goodbye to its old imaging equipment and welcomed new, larger-capacity CT and MRI.
"Our lease was up on our old machines and the software was outdated," said Jamie Ross, CCMH Director of Radiology Services. "A decision was made to upgrade to the newest machine and software on the market."
Both Ross and Radiology Technologist Jeremy Crooker traveled to California, Wisconsin and Kentucky trying out other equipment and decided on equipment from Siemens Medical Solutions USA, Inc.
In June, temporary equipment was stationed outside the hospital in a transport trailer signifying the beginning of the replacement of both pieces of equipment internally.
The new CT scanner, a SOMATOM Definition, is a 64-slice configuration, state-of-the-art single source CT that provides possibility to maximize clinical outcome and minimize radiation dose with the most up-to-date software out there. Its large bore of 78 cm and table weight capacity of 500 pounds opens CT to all patients. The first patient scanned on July 24.
The new MRI machine, a MAGNETOM Aera, features new state-of-the-art software, 70-cm wide-bore design to reduce patient anxiety and claustrophobia, total imaging matrix for excellent image quality and speed, quiet examinations with at least a 70 percent reduction in sound pressure levels, and increased table weight of 550 pounds.
"The metal artifact reduction on the MRI allows us to see tissue around implanted devices such as knee or hip replacements," Ross said. "The metal artifact reduction on the CT allows us to see cardiac stints and wires."
The new, larger-capacity equipment is just another way CCMH is caring for patients and reducing costs for traveling.
Training on the new MRI equipment was provided a week prior to the first patient's official use on October 2.
"We will continue to upgrade and keep the most up-to-date software on the imaging equipment," Ross said. "We want to ensure our patients get the best care possible."