CCMH Introduces 'Ease of Finding Your Way Around'
December 28, 2017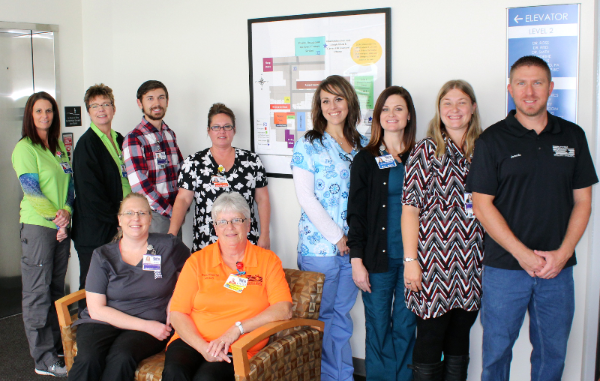 CARROLLTON, Mo. – Carroll County Memorial Hospital is dedicated to ensuring patients have a good experience while visiting the facility. To ensure this happens, CCMH has developed a committee of employees, known as the Outpatient Experience Team. Their focus is to look at areas of the hospital where improvements can be made for the overall patient experience.
"One area that has been a major focus is the ease of finding your way around the facility," said Cindy Gilman, RN, Director of Quality and team leader. "A sign of growth is the expansion of areas that sometimes means relocating a department."
To ensure our patients find their way around, the committee developed a facility map that is located in key areas of the hospital for patients and visitors to use. These maps are located at the CCMH Medical Plaza Entrance, Emergency Entrance, CCMH Main Entrance and, coming soon, the 4 Corners Café Entrance.
Patients and visitors have the option to pick up printed maps at many locations throughout the hospital.
"You can even preplan your visit by viewing the map on the hospital's website, www.carrollcountyhospital.org," said Mindy Kelly, RN and team member.
Team members include: Cathy Evans, LPN, Jefferson Medical Group nurse; Kim Benedict, RN, Outpatient Specialty Clinic nurse; Joseph Ray, Patient Access Representative; Amy Peck, CRT, Respiratory Therapy; Cindy Gilman, RN, Director of Quality and team leader; Mindy Kelly, RN, Surgical Services; Rachel Arth, Digital Marketing Manager; Jeremie Ahnefeld, Maintenance; Alex Wader, Patient Access Representative; Linda Jones, Environmental Services Supervisor; and Chrisann Flod, PTA, Physical Therapy
For more information about the services at Carroll County Memorial Hospital, visit our website http://www.carrollcountyhospital.org or call 660-542-1695.