CCMH Welcomes New Physicians to Outpatient Clinics
March 23, 2016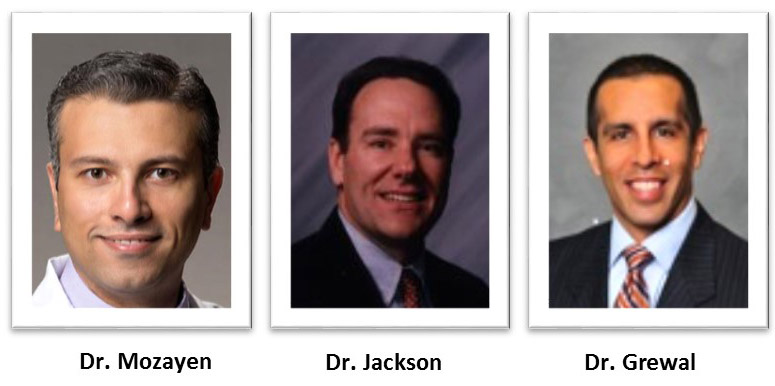 CARROLLTON, Mo. -- CCMH always strives to provide the community and surrounding areas the best outpatient clinics available. We currently offer surgery, cardiology, women's health, gastroenterology, podiatry, neurology, wound, oncology, orthopedic, rheumatology, urology and more.
Dr. Robert Jackson was welcomed to the Rheumatology Clinic recently and is offering clinics the fourth Monday of each month to address clinical problems involving joints, soft tissues, autoimmune diseases, vasculitis and heritable connective tissue disorders. Dr. Jackson earned his Medical Degree at Kirksville College of Osteopathic (now A.T. Still University) in Kirksville in 1981. He completed a Residency in Internal Medicine at Kirksville Osteopathic Medical Center in 1984 and a Residency in Internal Medicine at the University of Missouri Health in 1985. In addition, Dr. Jackson completed a Fellowship in Rheumatology at the University of Missouri in 1987.
Dr. Mohammade Mozayen was welcomed to the Oncology Clinic and is a cancer and hematology specialist. Beginning in April, Oncology Clinics will be offered the second and fourth Thursdays each month. This is made possible by a partnership with Sarah Cannon Midwest Health. Dr. Mozayen is certified by the American Board of Internal Medicine and the Educational Commission for Foreign Medical Graduates, and is a member of the American College of Physicians. He is fellowship trained in medical oncology and in hematology/oncology.
Dr. Rishi Grewal was welcomed to the GI Clinic in February and is offering clinics the first and third Thursdays of each month focusing on the digestive system and its disorders such as GERD, constipation, abdominal pain, colonoscopies, EGDs and consultation for disorders with the GI tract and liver. This is a partnership between CCMH and Consultants in Gastroenterology. Dr. Grewal is board certified in Internal Medicine and Gastroenterology. He grew up in the suburbs of Chicago and moved to Missouri for his residency and fellowship with the University of Missouri and returned to Chicago for a couple of years in private practice before moving back to Missouri to join the faculty at University of Missouri-Columbia where he was an Assistant Professor of Gastroenterology with extensive experience doing inpatient, outpatient, clinics and teaching residents and fellows. He has been a mentor to his residents and fellows and has helped add to the department with his skills not only at colonoscopies and ERCPS, but also has won accolades from the students for being an excellent teacher. He was nominated by the students for Alpha Omega Alpha Award for teaching.