CEO: Maternity Care Desert
October 25, 2023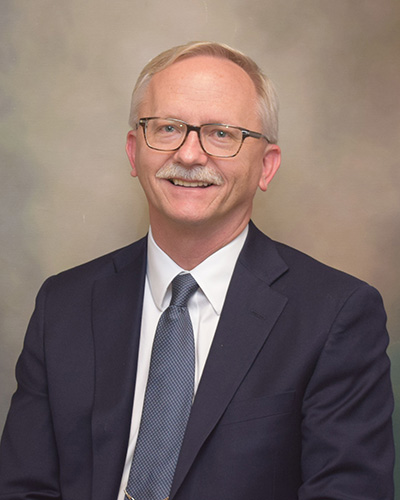 By Scott Thoreson, Carroll County Memorial Hospital Chief Executive Officer
You may or may not have heard of the term "maternity care desert" or perhaps "obstetrical desert," but they mean the same thing. It is a term given to a geographic area where there are no hospitals that deliver babies. Across the country there are more than a thousand counties, or about one-third of all counties in the country, where 7 million women of child-bearing age live in a maternity care desert. Most of these maternity care deserts are in the South, Great Plains and the Inter-Mountain West. Rural America is quickly becoming a maternity care desert as more and more family medicine physicians choose not to deliver babies, and it is becoming increasingly difficult to recruit OB/GYN specialists to rural areas.
Historically, about 30 percent of family medicine physicians across the country were delivering babies about 25-30 years ago. Now that figure is somewhere between 6-9 percent. Along with the loss of providers to deliver babies is the loss of rural hospitals themselves across the country. Between 2005 and 2021, approximately 170 rural hospitals closed nationwide and many that remained open terminated their obstetrics programs during this time in an effort to remain financially viable. In order to maintain an obstetrics program, it is necessary to have ready access to providers of anesthesia services 24/7, 365 days per year and have an OB/GYN, general surgeon, or family medicine physician specially trained in providing C-sections. In association with this, a well-trained operating crew with nurses and surgical technicians is needed around-the-clock as well. Particularly in hospitals with smaller volume, even if it is possible to obtain all of these critical elements, it is extremely costly and many times cost-prohibitive to keep the rest of the hospital services viable.
In our general area of north-central Missouri, to the west the nearest hospitals to deliver babies are in Liberty, Independence and North Kansas City, and more to the north, it would be Cameron. Strictly to the north there is no Missouri hospital that delivers, so a person would need to travel to Ottumwa, Iowa, to deliver a baby. To the east one would need to travel to Kirksville and to the south the nearest hospital is in Marshall, Missouri. Columbia hospitals also offer maternity care services. Just in the last few months the hospital in Chillicothe ceased deliveries due to the in ability to acquire and maintain OB/GYNs.
The last baby officially born during the time when CCMH had an established obstetrics program was in 1985. Since that time, there have been a select few births that took place in the emergency room due to extreme circumstances, but that is not the way to bring a newborn into the world. It is important that Carroll County have young people in order to have a growing and thriving community. Schools, churches and employers of all kinds need a consistent flow of young people, who turn into older people, to keep the economy going and support the infrastructure that is in place. In Carroll County, 5.1 percent of the population is below the age of 5 and 21.8 percent of the population is under age 18. This compares to 5.7 percent below the age of 5 and 22.1 percent under 18 across the entire state of Missouri and 6.1 percent below the age of 5 and 22.1 percent under 18 across the United States as a whole. So overall, Carroll County doesn't have as high of a percentage of younger people compared to the state of Missouri or the United States, but it is close.
While our providers at CCMH don't offer obstetrics practices, we are able to take care of babies once they are delivered. Thank you for the opportunity to share some information on this critical aspect of health care, as it has such an important aspect of how communities look and grow. If you have a question you would like addressed in this column, please send it to info@ccmhospital.org. I wish you good health!
More in this Series:
CEO: Rural Emergency Hospitals (Published September 20, 2023)
https://www.carrollcountyhospital.org/news/ceo-rural-emergency-hospitals
CEO: Primary Care Provider (Published August 23, 2023)
https://www.carrollcountyhospital.org/news/ceo-primary-care-provider
CEO: Supply Shortages (Published June 28, 2023)
https://www.carrollcountyhospital.org/news/ceo-supply-shortages
CEO: CCMH Named Top 20 Critical Access Hospital (Published June 14, 2023)
https://www.carrollcountyhospital.org/news/ceo-ccmh-named-top-20-critical-access-hospital
CEO: Hospital Week 2023 (Published May 3, 2023)
https://www.carrollcountyhospital.org/news/ceo-hospital-week-2023
CEO: Prior Authorizations (Published April 5, 2023)
https://www.carrollcountyhospital.org/news/ceo-prior-authorizations
CEO: Staff Shortage and Open Positions (Published February 8, 2023)
https://www.carrollcountyhospital.org/news/ceo-staff-shortage-and-open-positions
CEO: End of Year 2022 (Published December 14, 2022)
https://www.carrollcountyhospital.org/news/ceo-end-of-2022
CEO: Purpose of the Foundation (Published November 10, 2022)
https://www.carrollcountyhospital.org/news/purpose-of-the-foundation
CEO: Health Insurance Portability and Accountability Act (Published September 28, 2022)
https://www.carrollcountyhospital.org/news/ceo-health-insurance-portability-and-accountability-act
CEO: CCMH Providers (Published August 24, 2022)
https://www.carrollcountyhospital.org/news/ceo-ccmh-providers
CEO: Financial Assistance (Published July 20, 2022)
https://www.carrollcountyhospital.org/news/ceo-financial-assistance
CEO: Social Determinants of Health (Published June 29, 2022)
https://www.carrollcountyhospital.org/news/ceo-social-determinants-of-health
CEO: National Hospital Week (Published May 11, 2022)
https://www.carrollcountyhospital.org/news/ceo-national-hospital-week
CEO: Why Healthcare is Expensive (Published May 4, 2022)
https://www.carrollcountyhospital.org/news/ceo-why-healthcare-is-expensive
CEO: A Hospital is Still a Business (Published March 16, 2022)
https://www.carrollcountyhospital.org/news/ceo-a-hospital-is-still-a-business
CEO: Different Types of Hospital Ownership (Published February 1, 2022)
https://www.carrollcountyhospital.org/news/ceo-different-types-of-hospital-ownership
CEO: Holiday Message (Published December 20, 2021)
https://www.carrollcountyhospital.org/news/ceo-holiday-message